Equality Insights Rapid: Ngaahi Ola Tefitó – Tonga 2022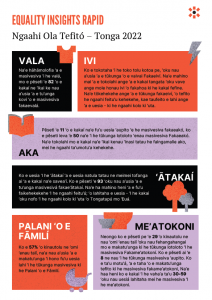 ʻOku ʻomi ʻe he infographic ko ʻeni ha ngaahi meʻa mahuʻinga mei he 2022 "Equality Insights Rapid Tonga Study".
ʻOku ʻoatu ʻa e ngaahi meʻa ʻoku maʻu ʻi ha tuʻunga ʻoku huʻi ʻi he ngaahi tafaʻaki mahuʻinga ʻe 15 ʻoku kau ai ʻa e vala, ako, ivi, palani fakafamili, meʻakai, moʻui lelei, ngaahi vā fekau'akíi, malu, maʻa, nofoʻanga, fakaʻaongaʻi ʻo e taimi, leʻo, vai, mo e ngaue.
---
This infographic presents key findings from 'Equality Insights Rapid Tonga Study 2022″.
It provides information on various important aspects based on a survey of 15 indicators, including education, employment, health, family planning, nutrition, well-being, communication patterns, safety, cultural practices, housing, time use, voice, water, and work.
---
Download ʻa e fakamatala mahinongofua ʻi heni | Download the plain-text version here
Equality Insights Rapid: Ngaahi Ola Tefitó – Tonga 2022
DOWNLOAD