Equality Insights Rapid Report: Tonga Survey 2022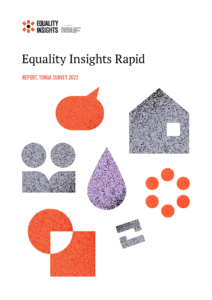 Equality Insights
Equality Insights is a quantitative and gender-sensitive measure of multidimensional poverty that collects data at an individual-level, and can show how poverty varies for different groups based on gender, sociocultural background, age, disability status or other demographic characteristics.
Equality Insights assesses multidimensional poverty by considering fifteen dimensions of life—clothing, education, energy, environment, family planning, food, health, relationships, safety, sanitation, shelter, time use, voice, water, and work. It also assesses financial circumstances by measuring assets. Equality Insights Rapid is a variant of Equality Insights Plus and has been designed to be administered by phone, rather than in person.
Equality Insights Rapid, Tonga
The Equality Insights Rapid study in Tonga began in August 2021 when the Tonga Statistics Department (TSD), in partnership with the Ministry of Internal Affairs, Women's Affairs and Gender Equality Division (MIA/WAGED), put forward a joint expression of interest in undertaking Equality Insights Rapid data collection with the International Women's Development Agency's Equality Insights program.
The purpose of the survey was to gain new, individual-level, gender-sensitive and intersectional data about multidimensional poverty to inform COVID-19 recovery efforts. Tonga is the first country in the Pacific to officially conduct household-level and individual-level assessment of multidimensional poverty.
Data collection took place over seven weeks between May to June 2022. A total of 6,703 respondents from 2,551 households were included in the study and a 99 percent participation rate was achieved.
This report presents findings at the dimension level and provides new information about the situation of particular groups in relation to 15 key dimensions of life, in the context of disruptions linked to COVID-19 and the events surrounding the January 2022 volcanic eruption. As Equality Insights Rapid collects data predominantly at the individual-level, it is possible to see similarities and differences associated with factors such as gender, age, location and disability, as presented in this report, and this data can be used to inform policy and programmatic priorities.
Equality Insights Rapid Report, Tonga Survey 2022
DOWNLOAD