HLPF Side Event: Navigating the politics of open data: Discussion paper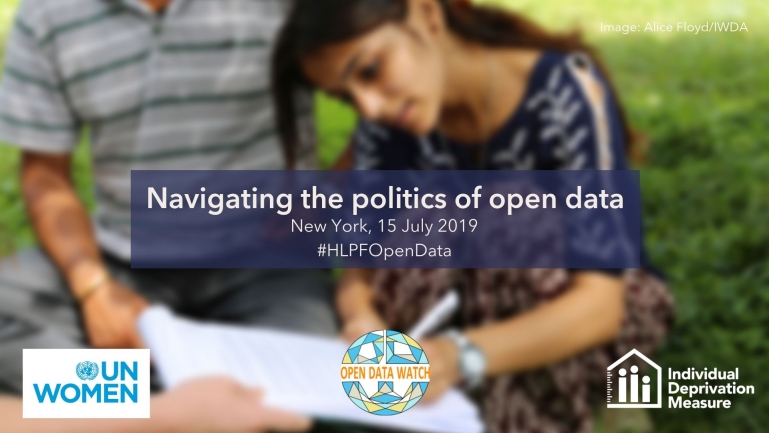 The 2030 Agenda for Sustainable Development is driving an increased focus on measurement. This includes work to strengthen data collection and develop approaches that offer new insights, including about the circumstances of specific groups and the impact of overlapping and intersecting barriers.
Data is political, particularly data about poverty and inequality, but also crucial for development and poverty reduction. More inclusive data and data disaggregation can provide new insights into who is experiencing what kind of inequality, geospatial technology shows where challenges are concentrated, and open data efforts seek to make more data more widely available. How can we approach and manage work in these areas to reduce risks and increase the value and use of data? How are actors navigating considerations and sensitivities to support the availability of more and better development data and meet the commitment to leave no one behind?
The Individual Deprivation Measure Program is collaborating with Open Data Watch, and UN Women to host a side-event exploring these issues at the 2019 High Level Political Forum. The event, on 15 July 2019, brings together individuals playing key roles within government, multilateral organisations and civil society to share approaches, issues and opportunities based on their experience and expertise. Dialogue and discussion with knowledgeable participants will surface wider insights and strategies from diverse contexts. A short discussion paper has been developed, outlining some of the topics to be discussed. You can download the paper below.
A healthy breakfast and opportunity for conversation and networking will be available from 9:00 am, with panel presentations / remarks and discussion from 9:30-11:30 am.
Speakers and panelists
| | |
| --- | --- |
| Shaida Badiee | Managing Director, Open Data Watch |
| Omar Seidu | Principal Statistician, Ghana Statistical Service |
| Francesca Perucci | Chief of the Statistical Services Branch, UN Statistics Division |
| Papa Seck | Chief Statistician, UN Women |
| Dr. Diani Sadia Wati | Special Adviser to the Minister on Institutional Relations, Ministry of National Development Planning, Indonesia |
| Rachael Beavan | Data Revolution Lead, Data for Development Team, Department for International Development, United Kingdom |
| Brigida Soares | Planning, Monitoring and Evaluation Coordinator, Office of the Prime Minister of Timor-Leste |
| Lorant Czaran | Senior Technical Advisor & Lead, GRID3 Project Secretariat, United Nations Population Fund (UNFPA) |
| Joanna Pradela | Director, Individual Deprivation Measure team at International Women's Development Agency |
The event will be moderated by Jenna Slotin, Senior Director for Policy and Strategy, Global Partnership for Sustainable Development Data.
To attend the event you will need to go through building security at the venue. This requires you to show a state-sponsored photo-ID such as drivers' license or passport. If you do not have photo ID on Monday you will not be allowed access to the venue. Please allow sufficient time for security processes.
—
This blog was originally written for the Individual Depravation Measure (IDM), a phase of the program which was a partnership between the ANU and IWDA with strategic funding from the Department of Foreign Affairs and Trade.
Navigating the Politics of Open Data — Discussion Paper
DOWNLOAD