The gender data demands of diverse feminist voices
The demands of gender data advocates are loud and clear – gender data is a must. Inclusive and intersectional data is vital to speed up progress on gender equality, prevent gender-based violence, and a fairer, equitable and more just world.
We put out a call to feminist and gender data advocates to tell us their gender data demands. This is what they had to say: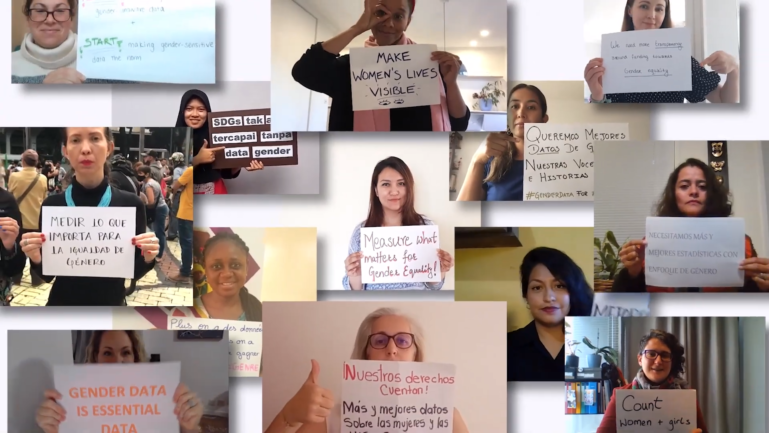 Gender Data for inclusion and equality
Measure what matters for gender equality
We want better gender data. Our voices, lives and stories count. #GenderData for #GenderEquality
No gender equality without gender data
The more data we have on women, the more chances we have of winning the fight for gender equality
Our rights count! More and better data on women and girls to achieve equality.
Gender data is important for gender mainstreaming
Stop investing in gender unaware systems and start making gender data the norm
Ensure inclusive and disaggregated data (inclusion in data)
An estimated one third of inequality lives within households. Measure it!
Count women & girls in
The lives of women count, make us visible in gender data
Gender data is essential data
We want more and better gender data
We need more and better gender data
We all count. Gender data is a must!
Make gender data available and accessible
"Particularly important is valuing the expertise that can be held by women's rights organisations working really closely with those populations that are so likely to be hidden or lost in existing data sets, which can include rural women, women and girls living with disabilities, and individuals who are non-binary or gender diverse."
Gender data to prevent and end gender-based violence
To prevent gender-based violence we want more and better gender data.
Reported cases of domestic violence in Colombia in: 2019: 2647. 2020:  6733. Data are key for gender equality.
Gender Data for the Sustainable Development Goals
The SDGs will not be achieved without gender data.
Gender data for accountability and transparency
We need better transparency around funding towards gender equality.
Make women's lives visible
Gender data ensure better advocacy
Equip feminist political leaders and feminist movements with the gender data that they need to make gender equality a reality in this generation
Invest in gender data
We want to see a massive investment in individual-level, gender-sensitive poverty data to finally advance the Beijing commitments on gender and poverty
 Our demand is for donors to commit USD 500 million per year from now until 2030 to close the gender data funding gap
We see the drum beat getting louder and louder and louder across our constituency – demand for increased political will from local decision-makers to the national level, and for an increase in funding towards gender data
We want to see an increase in resources for gender data and to disaggregate outcomes based on gender; donors have power to shape change
Gender data for the rights of girls
We are the future, count us now
Girls count! So count us in your data!
To achieve gender equality when I'm your age, we need to collect gender data now
Count us today so that we have equal rights and opportunities tomorrow
Gender Data for gender-responsive budgeting
Invest in the data necessary to support gender responsive budgeting and make it intersectional
Gender data is desperately needed to allow for meaningful analysis of where the money is needed and where the money goes….
We need data about government investment in public Sector Superannuation Schemes (UNSDG aligned investments – tapping in to #GenerationEquality 6 Action Coalitions, Australian Modern Slavery Act compliance alignment in chosen superannuation investments)
More data about government expenditure into Tech Transformation Projects: including the percentage of successful tenders awarded to women-led tech service providers / gender balance in tech transformation service providers and vendors / championship programs for women into tech roles and leadership in government tech vendors and service providers
Gender data in specific sectors
University sector data needed for gender equality: pay transparency; clear criteria for promotion; transparency in distribution of teaching and service roles
Gender data in foreign aid and humanitarian relief, including data about board composition, operational & senior management gender balance, on-field leadership, succession planning rotations  for long-term in-country program partnership, local supplier ownership composition, technical team composition