Women's Economic Empowerment in the Solomon Islands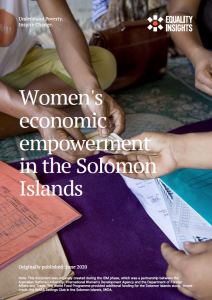 The dimensions of work, time-use and voice are particularly interconnected and can reveal important information regarding women's pathways to economic empowerment. This brief explores these dimensions, along with data on asset ownership and control, to highlight the multidimensional nature of economic empowerment and resiliency for women and men in two provinces of the Solomon Islands.
Note: This document was created in June 2020, during the IDM phase of the program, which was a partnership between the ANU and IWDA with strategic funding from the Department of Foreign Affairs and Trade. The Solomon Islands study was also supported by The World Food Programme.
Women's Economic Empowerment in the Solomon Islands brief
Size: 3mb
Download