Fiji: Planning for prevention: Spotlighting potential gendered implications of COVID-19
C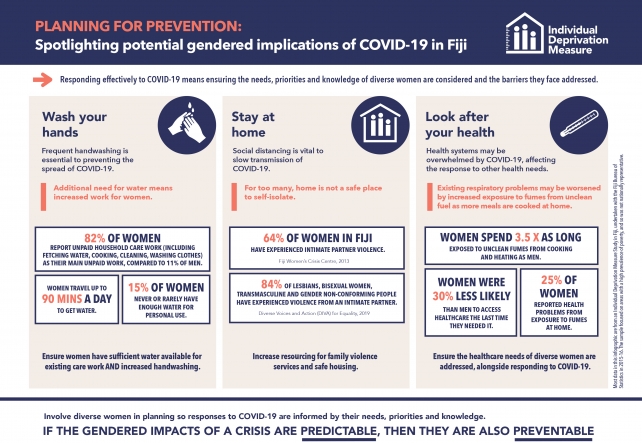 The IDM generates gender-sensitive data about the multidimensional deprivation of individuals. This enables clearer insights into gendered deprivation across 15 key aspects of life.
The IDM team has created a simple one-page resource for policy-makers, women's rights organisations and others working to plan for & manage COVID-19 risks in Fiji, combining IDM data with stats from the Fiji Women's Crisis Centre and Diverse Voices (DIVA) for Equality to spotlight potential gendered implications.
This resource includes key statistics across water, energy, healthcare access and unpaid work to anticipate some of the potential gendered implications of the COVID-19 pandemic in Fiji.
1-page Infographic
For those who want a little more detail and some graphs, see this 2-page brief, which uses IDM data about energy, water, health and unpaid work to highlight potential gendered implications of COVID-19, to support planning and action.
DOWNLOAD
2-page brief
This brief presents a range of data relevant to planning gender-sensitive responses to COVID-19 and its impacts, to support decision makers and assist the focus and efficacy of responses.
DOWNLOAD
Why individual data matters for understanding the gender implications of COVID-19
DOWNLOAD