Equality Insights Rapid Report: Solomon Islands Survey 2022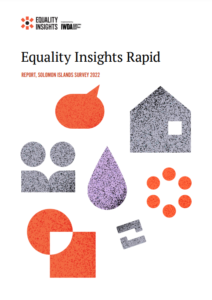 Equality Insights
Equality Insights is a quantitative and gender-sensitive measure of multidimensional poverty that collects data at an individual-level, and can show how poverty varies for different groups based on gender, sociocultural background, age, disability status or other demographic characteristics.
Equality Insights assesses multidimensional poverty by considering fifteen dimensions of life—clothing, education, energy, environment, family planning, food, health, relationships, safety, sanitation, shelter, time use, voice, water, and work. It also assesses financial circumstances by measuring assets. Equality Insights Rapid is a variant of Equality Insights Plus and has been designed to be administered by phone, rather than in person.
Equality Insights Rapid, Solomon Islands
Equality Insights, in partnership with the Solomon Islands Ministry of Women, Youth, Children and Family Affairs and the Solomon Islands National Statistics Office, conducted this survey with the help of Honiara-based research organisation Dignity Pacifik between May 30 and August 30, 2022.
Data was collected in every province using an innovative new phone-based survey to collect inclusive, multi-dimensional data about experiences of poverty and inequality in Solomon Islands in the wake of COVID19 disruptions. The resulting insights provide a clearer picture of the circumstances of individuals and groups, and how these vary, to inform targeted, responsive, evidence-based and data-driven solutions that tackle poverty and reduce inequalities that can inform priorities and programs for decision-makers across Solomon Islands.
Equality Insights are proud to deliver this work in collaboration with representatives from government and civil society in Solomon Islands to ensure that the survey reached all areas of stakeholder engagement.
Equality Insights Rapid Solomon Islands was made possible due to the support of the Australian Government Department of Foreign Affairs and Trade.
Please note: a previous version of this report included incorrect figures in the Clothing and Family Planning Dimensions. Please see pages 21 and 35 respectively for further details.
Equality Insights Rapid Report, Solomon Islands Survey 2022
DOWNLOAD